Also known as laboratory standards, Reference Materials, are pulverised rock with known gold content suitable for analysis by fire assay, aqua regia dissolution or cyanide dissolution. They are low-cost aids used by laboratories and exploration companies for quality assurance and quality control management.
Rocklabs Reference Materials are recognised as being the most accurate and reliable reference materials globally and certified for Gold, Silver and Platinum Group Elements. The certificate, which includes details of the production and characterisation of the Reference Material, is issued with each consignment of sachets or jars sold.
Scott has a team of chemists, geologists and statisticians to advise on the use of the reference materials and the analysis of results. Typically, exploration and mine geologists can submit one sachet with each batch of samples they send to the laboratory for gold analysis, or one sachet with every 50 samples (for large batches). Our broad range of Au, Au-Ag and Pt-Pd-Au are available in 30, 50 and 100-gram sachets or 2.5 kg jars.
A significant amount of work goes into certifying the homogeneity, accuracy and precision of the assigned analyte concentration. An international proficiency test (round robin) is run for each manufacturing cycle, typically involving, 50-60 well known mining laboratories from around the world. The final values are assigned by an independent Statistician.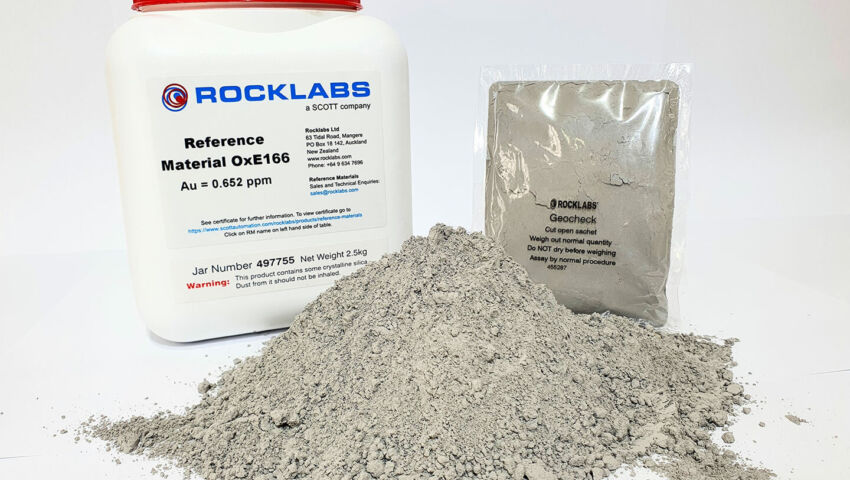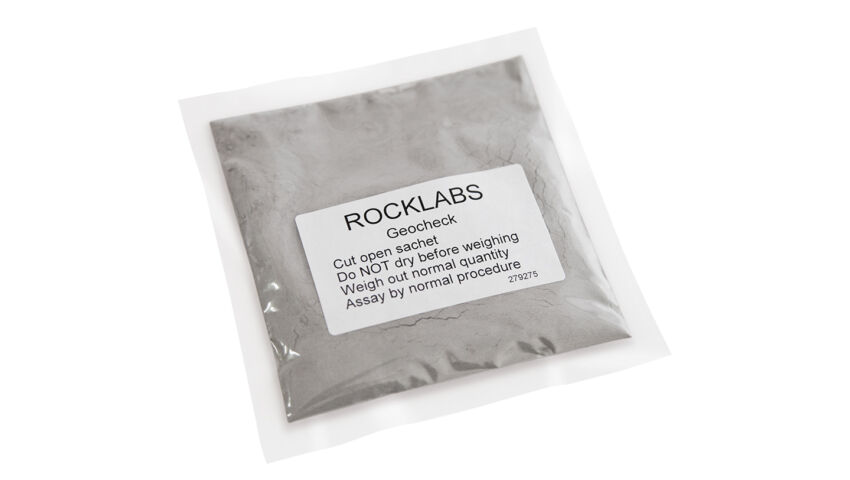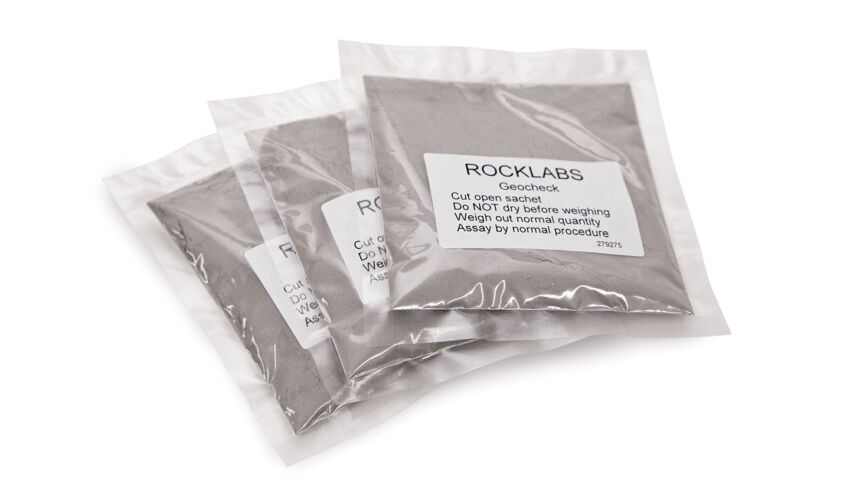 Please note that "30g" and "50g" are nominal values only. Approximately 2 grams extra are included in each sachet so that it is easier to scoop out the nominal weight without having to scrape out the last traces of powder in the bottom of the sachet.
The sachets are available with either Labcheck or Geocheck labels. Labcheck labels have the name of the Reference Material (e.g. WG2) clearly stated on the label. Geocheck labels do not have the name of the Reference Material stated on the label but do have a unique number for ready identification by the purchaser. Jars are packed in cartons containing 6 jars (i.e. 15 kg) but the minimum order is one jar.
Customised Reference Materials
Do you have mine material or an exploration target that has an unusual matrix? We may be able to produce a Reference Material that has a similar mineral composition to your material. We would make this from materials known to be stable and from screened minerals that contain finely divided gold.
The matrix-matched mineral components will be blended together and packaged in sachets or jars (your preference) and a formal homogeneity test carried out. Samples can be sent out for consensus testing and a formal certificate supplied if required. To obtain a quote, contact us directly or your nearest Rocklabs agent.